AI-Powered Meeting Notes for Microsoft Teams
Meeting Insights uses the power of your voice and GPT to automate the Meeting Minutes of every Microsoft Teams meeting.
Allowing you to focus o
n
what
's
important – being engaged.
How It Works?
Record
Mia (Meeting Insights Assistant) automatically joins and records your organization's publicly available internal or external Microsoft Teams online meetings.
Save
The recording is saved in your Meeting Insights company repository.
Analyze
Generative AI quickly analyzes the meeting transcription for all the key details.
Share
The AI meeting summarization, specific customer questions and how they're answered, relevant topics of conversation, and binge-worthy highlights from every MS Teams meeting are ready to be accessed and shared.
Automatically Record and Transcribe Microsoft Teams Meetings.
Turn meetings, demos, webinars, or presentations into reusable resources. With Meeting Insights, you can automatically or manually record any meeting you want. You'll receive the full meeting recording, transcript and AI-powered meeting minutes directly to your email after finishing the call.
All AI-powered meeting minutes are linked to the meeting recording and full meeting transcript, so you can easily access any detail. Now you can focus on the conversation, while Meeting Insights does everything else.
AI-powered meeting notes organizes your meeting summary, key topics, action items, and questions asked within each meeting

Record only the meetings you want to record or start and stop whenever you need to

Easily record hybrid meetings with a Teams Meeting Room device, helping maintain engagement no matter the room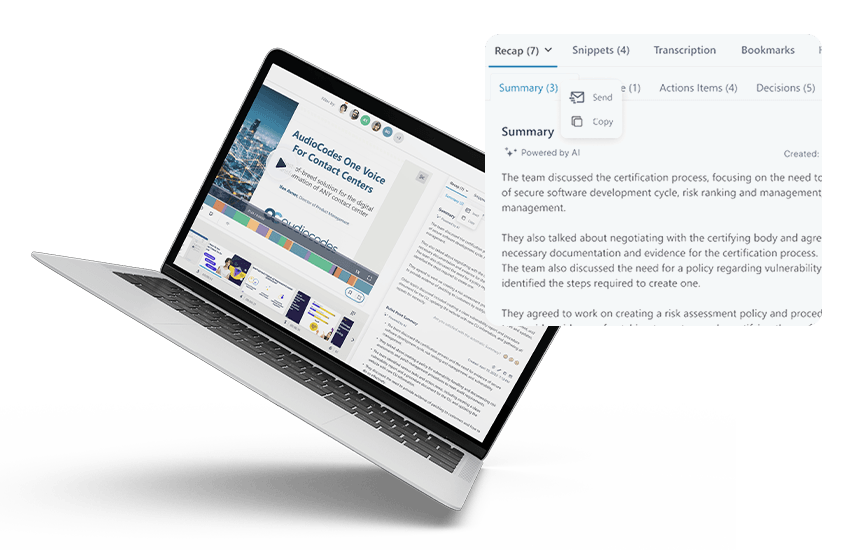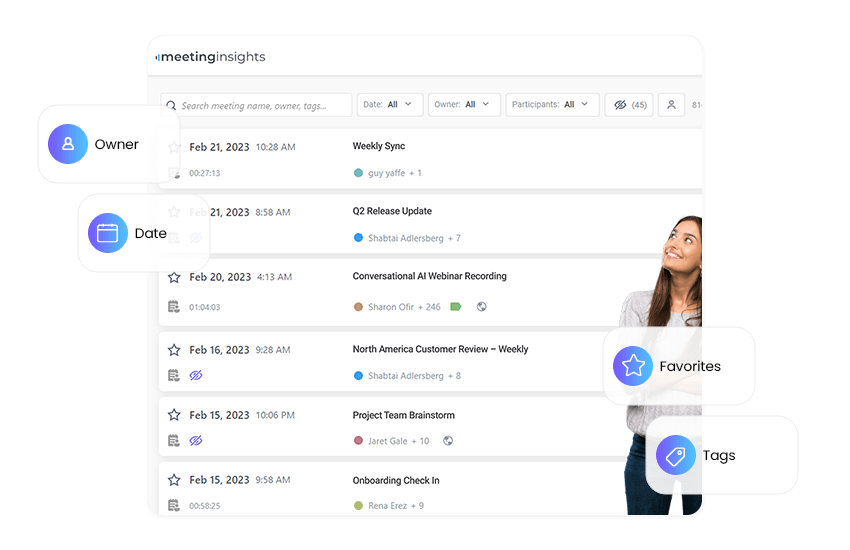 No More Scrolling Old Teams Meeting Chats. Access All Meeting Content in One App.
Meeting Insights keeps all your company meetings and content in one searchable place. Automatically uploading meeting recordings to a central repository. No more asking and waiting for access or sharing links to recordings. Everyone in your organization has access to the continuously refreshed meeting recordings through the Teams app (desktop or mobile) or on a browser. Search, find, and consume meeting content in one place.
Search meeting recordings by title, participants, tags, or date

Organize the most relevant meeting recordings by favorites

Stay in the loop with a running list of your own meetings and the meetings relevant to your role
This is Notetaking on Autopilot. Get Every Detail, from Every Call.
Live meeting attendance has come and gone. With Meeting Insights, you only need to invite a select few as Mandatory and leave others as Optional. Our AI meeting assistant, Mia, will record, transcribe, and analyze every word from all the meetings you couldn't attend. Allowing you to quickly catch up on the moments you missed or revisit highlights from a previous call.
See speaker identification and the specific slide/screenshare being shown during a presentation

Find AI-powered timestamped highlights, bookmarks, and action items to quickly digest a 1-hour meeting in 5 minutes

Search the meeting transcript for topics discussed during meetings to instantly find keywords tied to a project, deal, or question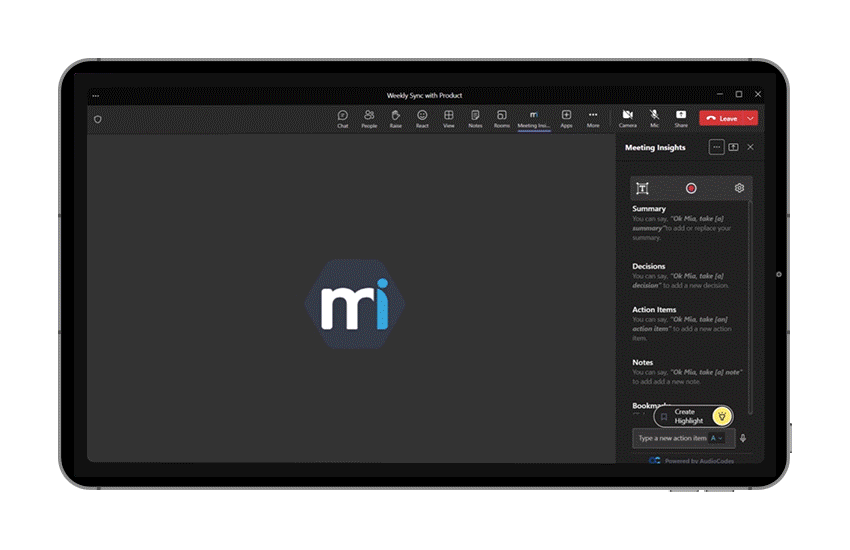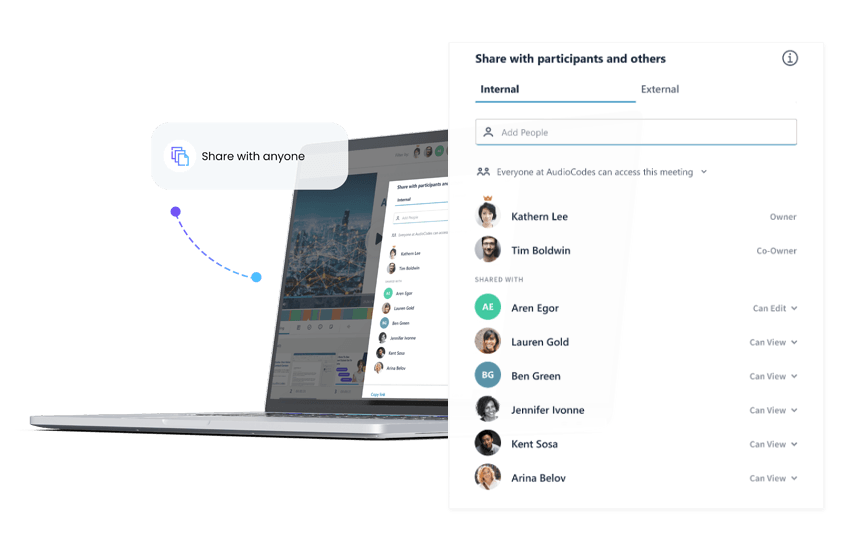 Share Powerful Moments Through the Click of a Button.
Cross-functional collaboration demands access to relevant information – which is why Meeting Insights gives all employees instant access to public meeting content. Not just a link to the entire meeting, because that's not helpful. But digestible meeting minutes to be shared as snippets to any team members through the Meeting Insights app.
Save time by sharing bite-size snippets to co-workers who benefit most

Remain an optional meeting attendee but get important meeting details sent to your inbox

Make meeting recordings public to your organization or customize privacy controls for access to specific individuals
Start Your Free 60-day Trial Now
Choose your plan:
(Everyone enjoys every Meeting Insights feature, no matter the size of your team).
Essential
For enterprises looking to
start with Meeting Insights

$6 per user/per month*
(billed monthly)

---
Automatic MS Teams recording

One central repository: record, save, analyze, share all meeting content

AI-generated meeting summary, action items, Q&A, issues, and upcoming meeting prep

Organization-wide meeting analytics

15,000 minutes of AI analysis per month, for every 100 users

6 months of meeting retention
Pro
For enterprises looking for
detailed insights on their meetings

$10 per user/per month*
(billed monthly)


Essential features +
---
Organizational meeting analytics dashboard

30,000 minutes of AI analysis per month, for every 100 users

12 months of meeting retention
*based on 100 users.
Meeting Insights Essential requires minimum order of $600/month with and 12-month commitment.
Additional 15,000 minutes of AI is $250/month
*based on 100 users.
Meeting Insights Pro requires minimum order of $1,000/month with and 12-month commitment.
Additional 15,000 minutes of AI is $250/month
What is Conversational Intelligence and how does it work?
Conversational intelligence (CI) begins with recording, transcribing, and analyzing a conversation between participants of a meeting. This can include sales calls, customer support interactions, internal meetings, or any recorded conversation. CI software uses artificial intelligence (AI) to identify key moments in the conversation, such as objections, questions asked and answered, areas for improvement, action items, or decisions made. This information can then be used to improve the way people communicate, both with customers and with each other.
Who is Meeting Insights for?
Meeting Insights is meant for commercial, government, higher education and non-profit customers who want to get the most out of their Microsoft Teams meetings. Meeting Insights is most effective for organizations with at least one hundred Microsoft Teams users each having 10+ meetings per week. Meeting Insights is not for individual users.
What departments use Meeting Insights?
Meeting Insights fits well in the following departments:
Senior Leadership
Sales
Product Teams
HR/Recruiting
Marketing
Project Management
Customer Success
Can I trial Meeting Insights?
Yes, you can! Meeting Insights can be trialed for 90 days. We suggest you have at least 10 users on the trial. This helps you see the full functionality of Meeting Insights and how the tool focuses on providing department or company-wide productivity. You can start a trial by booking a call.
Does Meeting Insights record all my meetings?
Not if you don't want to. You can choose which meetings you want Meeting Insights to record. We believe user privacy is important and not all conversations need to have a record. You can easily add or remove Mia (Meeting Insights Assistant) from any meeting invitation or add and remove Mia during the meeting. In case you don't want to fully remove Mia, you can simply hit "pause" if there is a specific topic in conversation you don't want to record.
What's the difference between Microsoft Teams Premium or platform recording and Meeting Insights?
Microsoft Teams Premium offers additional features that can be added to your existing Teams license, while Meeting Insights is a separate application that integrates with Microsoft Teams. While there are a few overlapping features, Meeting Insights and Teams Premium provide different outcomes for their users. We break down the difference in the table below on this PDF.
What type of meetings are best to record?
We've found the best meetings to record are the ones that generate helpful content for everyone in your organization on a reoccurring basis. Those include:
Candidate Interviews
Customer Calls
Product Demos
Product & UX Research
Team Meetings
Employee Onboarding
Project Updates
What's the full list of Meeting Insights features?
| | | |
| --- | --- | --- |
| Native app in Teams client​ | Grouping and review of recurrent meetings and their recaps​ | Automatic recording and transcribing |
| In-meeting voice commands​ | Video snippet creator | Room systems speaker identification​ |
| Dedicated account manager | Attendees info | Trim recordings |
| Make recordings private or public | Meeting attachments | Search transcriptions using keywords |
| Search by meeting name, owner, tags, date | Import meeting recordings | Speaker tracking over the audio, search, filtering |
| Audio recording | Time-stamped shared content gallery/slides recording | Help Center (how-to videos, voice commands, quick start guide) |
| AI meeting summarization | AI-powered action items | AI-powered meeting highlights |
| AI-powered decisions | AI-powered Q&A | AI-powered issues and solutions |
| AI-powered speaker summaries | Magic Prompts (ChatGPT-style Q&A with your meeting content) | Sentiment Analysis |
| Meeting recap email notifications | Custom organization vocabulary | Meeting minutes download (CSV, PDF) |
| Mobile access | Full transcript | Favorites folder |
| Shared with me folder | My meetings folder | Shared links for internal employees |
| Shared links for external participants | Organize-wide access to all public meetings | Meeting tags |
What languages does Meeting Insights support?
Meeting Insights currently supports English and Hebrew.
What's the importance of a meeting management software?
Meeting management software helps you manage and organize meetings more efficiently. It can automate tasks, track action items, and improve overall productivity. It can also reduce the need for manual note-taking and improve communication across online teams.
© 2003-2023 AudioCodes Limited. All rights reserved. Trademarks and SEC Notice of AudioCodes Limited.