Native Teams App
The Contact Center Entirely Designed for Microsoft Teams
Voca connects your UC and CC with a lightweight CCaaS made for internal and customer-facing agents.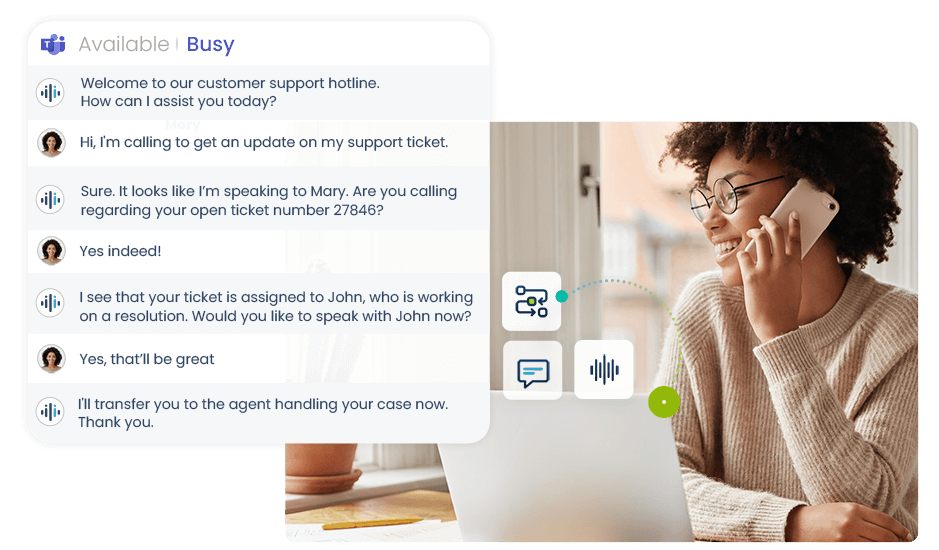 Forget the integrations. Conversational AI is already built into Voca.
5-minute IVR builder
No-code call flow designer couples speech-to-text with your CRM and databases.
Intelligent routing
Set up queues based on Teams presence, agent expertise, or language.
Monitor performance
Get an unbiased view into customer interactions with a real-time dashboard and 10+ pre-built historical reports.
Talk the menu
Use the power of voice to improve customer experience with out-of-the-box Conversational AI.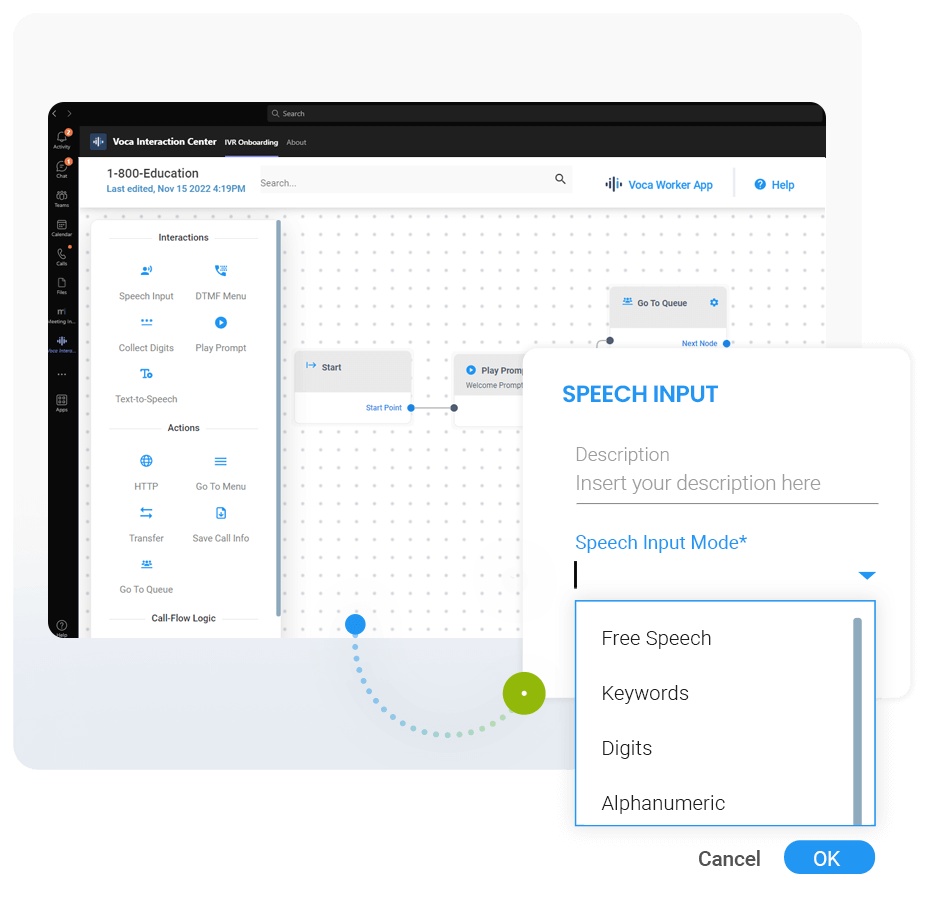 Built-in Conversational AI
Automation designed with your agents and callers in mind.
Combined Conversational AI
Pre-integrated Natural Language Understanding, Speech-to-Text, and Text-to-Speech allowing customers a fundamental way to connect —through voice.
No-code flow designer with an API
Automate any calling scenario with logical functions and API requests for real-time data dips into a powerful no-code flow designer.
CRM connection
Integrate your CRM data with a Conversational IVR call flow to automate data collection into CRM and personalize caller experiences with customer information like open tickets, prescription renewals, purchase history, etc.
Actionable Call Queuing & Skill-based Routing
Intelligent routing that fits any scenario.
Skill-based routing
Create unlimited skills and route calls to your most knowledgeable workers based on caller requests.
Define overflow thresholds
Meet your service levels by automating actions upon max wait times and calls in queue.
Multi-platform queuing
Reach any employee or destination in any voice environment by using Voca to route calls, even during migration.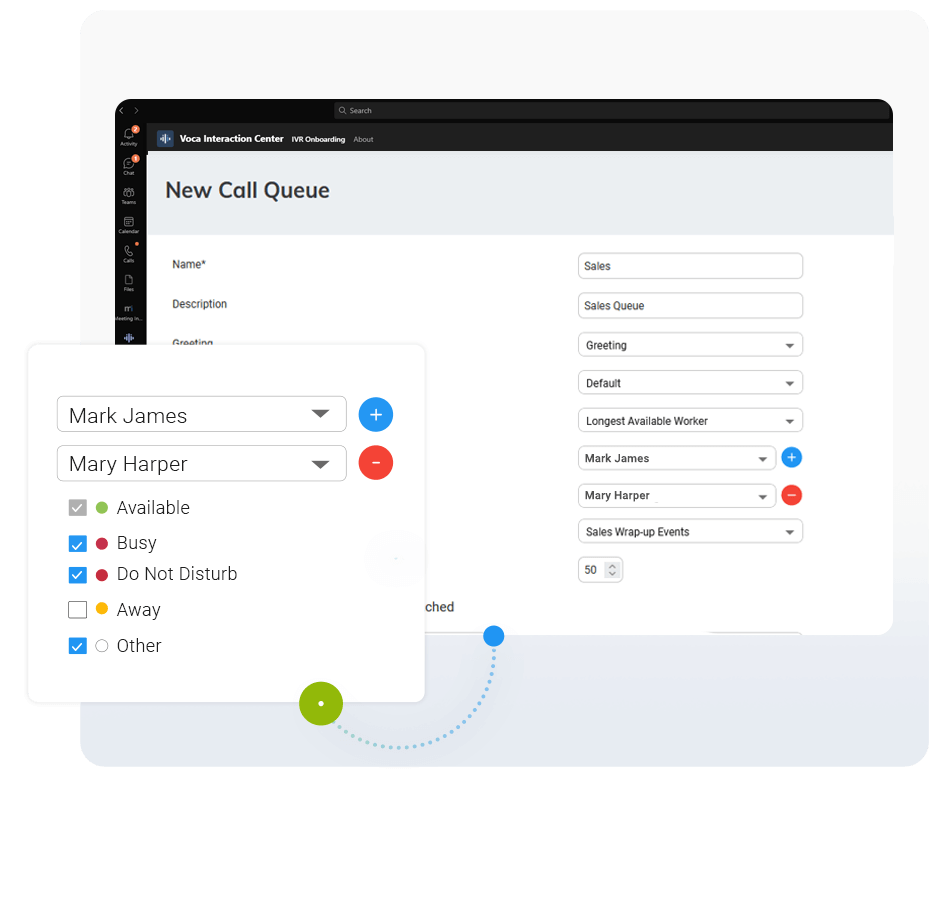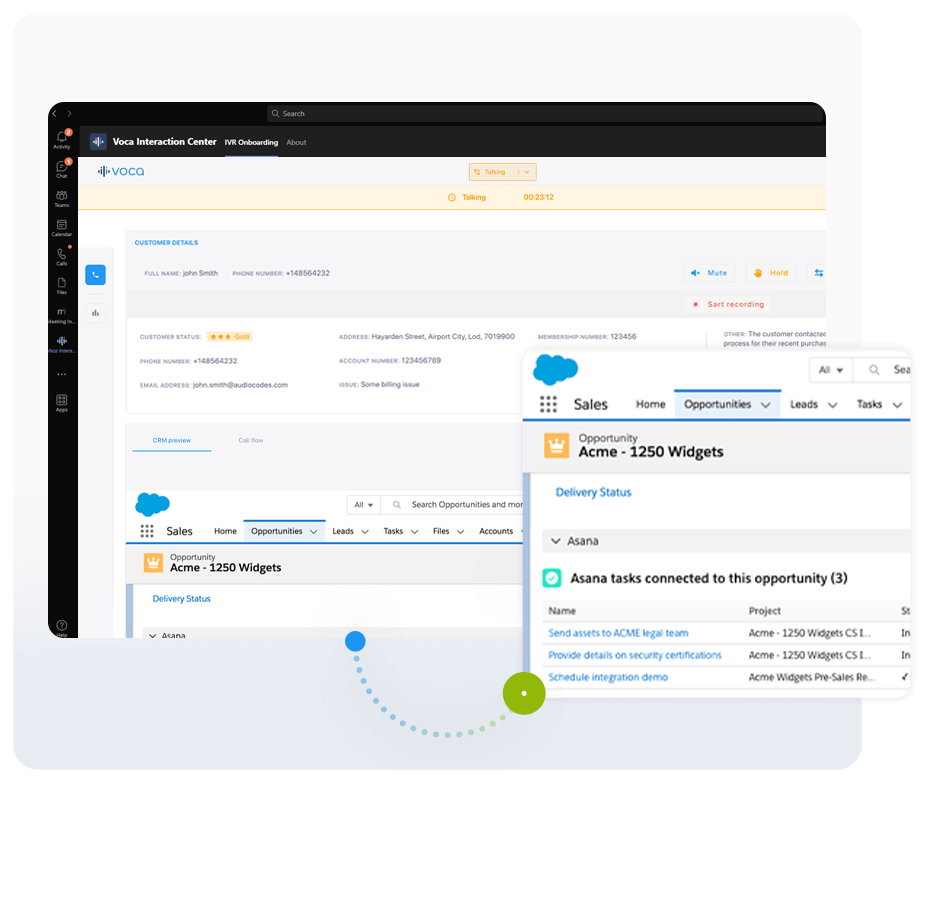 Modern Agent Desktop
One-app, one-screen contact center experience.
Sits natively in Microsoft Teams Voice
Enjoy Microsoft Teams calling infrastructure, media quality, encryption, and security, with a unified interface for all your agents.
Onboard agents quickly with familiar features
Teams presence status, dedicated call controls, integrated CRM data and embedded windows, and customized wrap-up events.
No agent limitations
Limitless number of agents and supervisors can log in as Teams users to the Voca Worker Application.
Real-time Analytics & Historical Reports
Get knowledge into your desk's performance.
See the details that matter to you
View reports like top requested IVR destinations & contacts, queue activity, customer drill-down, call volume, and transfer rates.
Open a window into your customer's experience
A real-time dashboard provides an instant look at pending calls, abandonment stats, average wait times and agent status so you can act fast to maintain service levels.
Always safe and secure
Your customer's data is backed by GDPR and HIPAA compliance. (1)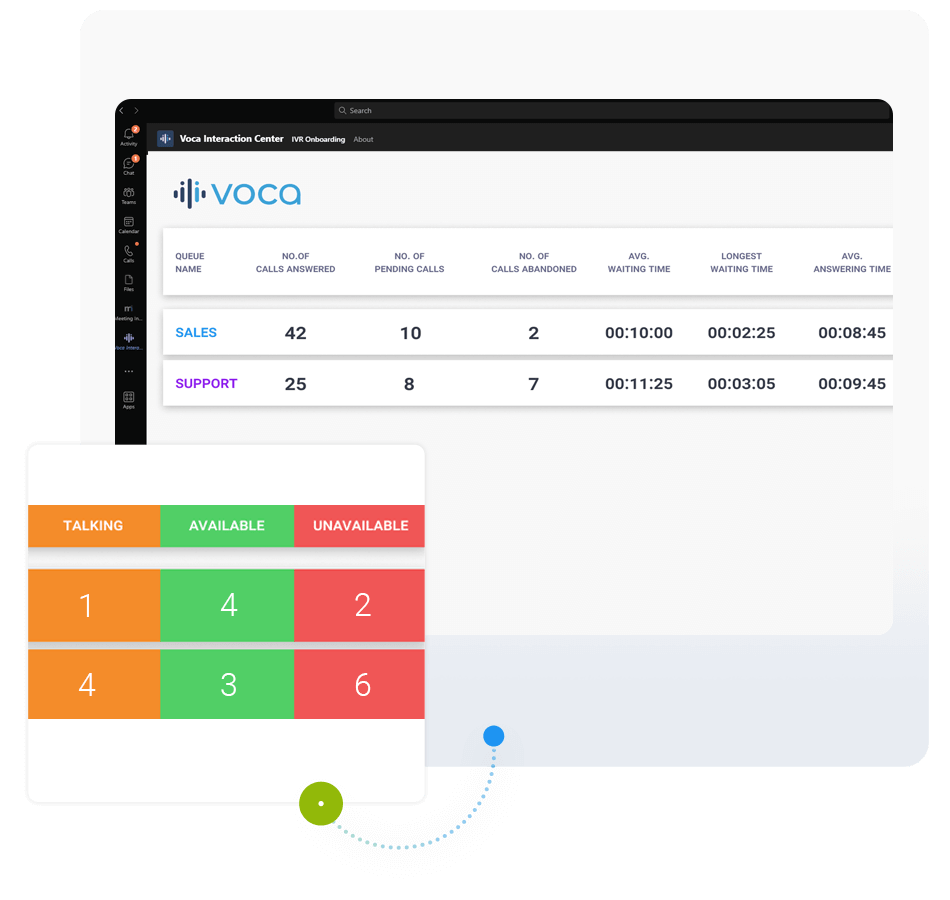 Imagine your UC and CC as a single pane of glass
The multiple ways you can apply Voca
Microsoft Teams Native
Contact Center
Provide the full service experience your callers need on the main service desk as well as internal departments — IT, HR and more.

Available in Microsoft Teams.


---
Includes features from Conversational Auto Attendant and IVR
Actionable Call Queues with Teams' Presence-based routing
Formal and Informal agent support
Agent & supervisor skills
Agent groups
Microsoft Teams-based Agent Desktop
Agent Desktop CRM integration
Customizable Not Ready and Wrap up events
Real-time dashboard
Historical reports & analytics
Multi-tenancy with Role-based Access
GDPR and HIPAA compliant
Conversational
Self-Service IVR
With built-in Conversational AI and an API extension, you can automate any service scenario in the world.
Available in any voice platform &
Microsoft Teams.

---
Includes features from Conversational AA
No-code IVRs & Virtual Agent Flow Designer
Built-in Conversational AI speech blocks (Free speech, Keyword based, Numeric and alphanumeric inputs)
Dynamic Text-to-speech
DTMF menus and digit collection
Conditional routing logic
CRM and 3rd-party integration using REST API
Trigger SMS
Routing to company contacts, agents, departments, and queues
Conversational
Auto-Attendant
Harness Natural Language Understanding to seamlessly reach any company contact or department.
Available in any voice platform &
Microsoft Teams.
---
Supports 14 language options
Built-in Speech-to-text, Natural Language Understanding, and Text-to-speech
Accommodates unique vocabulary (contact and product names, locations, and departments)
DTMF fallbacks
Multi-tenancy
Role-based access
Automatic sync with Active Directory
Presence-based routing for Microsoft Teams users
Skill-, attended-, and time-based call routing
Call hunting across user's devices
In-platform voicemail and missed call notifications
Control after-hour routing
Reports and analytics
AudioCodes is trusted by industry leaders like
Frequently Asked Questions
Can I use Voca for IVR and Contact Center capabilities, without Conversational AI?
Yes, definitely. Voca has a DTMF-only channel license, that provides the same experience for users and customers, minus the Conversational AI aspects. Also, the DTMF-only channel license is a more affordable option than the Conversational AI channel.
Can Voca connect to more than Microsoft Teams?
Yes, as an AudioCodes solution we can connect Voca to any type of phone system, whether an Analog PBX, IP PBX, Zoom UC, on top of an existing Contact Center, Web RTC click-to-call and even directly to a SIP Trunk.
The Microsoft Teams-only capabilities refer to the Voca Agent Desktop, Real-time Dashboard, and Skill-based Routing capabilities.
What are the deployment models for Voca?
Voca can be provided as a Cloud service by AudioCodes, or it can be deployed on the customer's premises, whether on a Virtual Machine, Data Center, or in the customer's Cloud (Azure).
How is Voca priced?
We believe in today's world it's hard to predict how many agents you need today vs. tomorrow. That's why we don't charge for agents who aren't even on shift!
As an example, a department of 50 agents may only have 35 agents on shift at any time. Of those, only 15 are on the phone at any time. This means you only pay for ACTUAL usage of 15 concurrent calls (with a 50-50 mix of Conversational and DTMF-only channels).
This provides you with more flexibility to add or remove channels based on your call volume, call flow duration, queue length, and actual usage of the Voca service.
So, I'm not charged per agent?
No, we believe in today's world it's very hard to predict how many agents you need today vs. tomorrow.
As a rule of thumb, a department of 50 agents typically requires 100 channels (with a 50-50 mix of Conversational and DTMF-only channels). This provides you with more flexibility to add or remove channels based on your call volume, call flow duration, queue length, and actual usage of the Voca service.
What is an informal agent?
An informal agent is a user that provides service outside of the company's main service desk – for example: IT Helpdesk, HR desk, Sales teams, Security teams and other internal departments, where users receive many calls during the day, and can benefit from CX capabilities like intelligent routing, voicemail, IVR, queuing and reporting.
Voca provides the ability for informal agents to be reached through a queue, included in intelligent routing with skills and Teams presence, or be an IVR destination — all while still using Teams or other phone system as their regular, go-to UC.
Can I try Voca for free?
Yes! You can try Voca for free for 30 days by going to the Microsoft Teams App Store or via your browser and signing up for a free trial.
You can even contact AudioCodes to get support from our dedicated Technical Success team who can guide you through basic configuration and connect the Voca service to your own phone system, during the trial period.
Can I get some help and training during my free Voca trial?
Yes, absolutely. During the 30-day free trial period, you'll find It simple to be in contact with our team of experts. Feel free to reach out to us now with any questions at info@acvoca.com.
During the trial period we'd be happy to help you build any IVR, call steering, and contact center scenario you want.
Also, we can help you connect your Voca service to your SIP Trunk and your phone numbers.
What languages does Voca support?
English US
English UK
English AU
German
Spanish
French
Dutch
Italian
Russian
Portuguese
Chinese Mandarin
Hindi
Japanese
Hebrew
© 2003-2023 AudioCodes Limited. All rights reserved. Trademarks and SEC Notice of AudioCodes Limited.